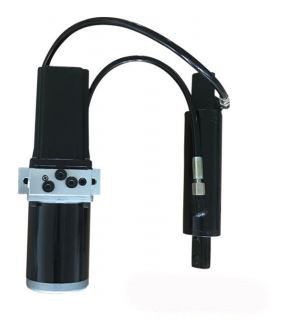 15MPa Hydraulic Station YA10-350
Description
15MPa Hydraulic Station YA10-350
The hydraulic station has overcurrent, overload, and overheat protection, and the hydraulic cylinder is self-locking in both directions. Domestic independent patent, stable performance and high integration, hydraulic station, oil cylinder, self-locking mechanism, pressure relief valve, replacement valve are highly integrated, no other hydraulic components are needed, and it can be used when connected to the power supply. The installation size and cylinder stroke can be customized according to customers, and the minimum order is 10 sets.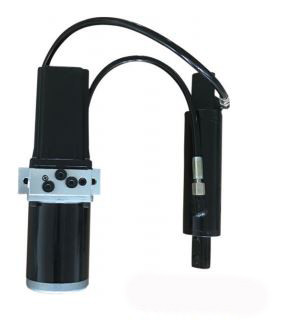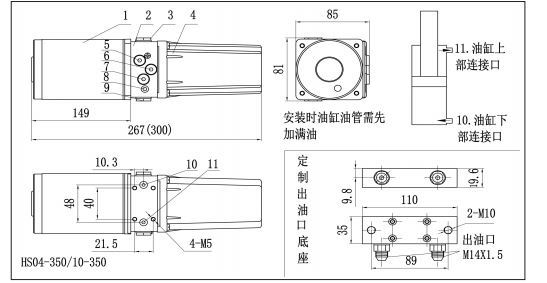 Functions:
1. Motor:12V/24V/48V
2. Gear pump valve body assembly: self-locking, reversing, overflow pressure highly integrated.
3. Retract the one-way plug: there is a filter net, and it is cleaned every six months.
4. Oil sac cover: inside oil sac, 350 ml
5. Retractable pressure adjusting plug: unscrew the plug, adjust the nut inside, tighten the retractable force increases, loosen the retractable force decreases
6. Tank filler plug: the oil in the tank is added from here, and the hydraulic oil is replaced from here
7. Jacking pressure adjustment plug: unscrew the plug, adjust the nut inside, tighten the jacking force increases, loosen the jacking force decreases。
8. Safety valve: loosen the safety valve to enable the ejector rod to recover automatically under the action of the load capacity. The next time you use it, be sure to screw it tight before using it.
9. Jacking unidirectional plug: there is a filter net and it is cleaned once every six months
10. Lower connecting port of oil cylinder: high pressure port 11. Upper connecting port of cylinder: low pressure port